One Hundred Thousand Welcomes | Cead Mile Failte
The Islay Hotel is a charming hotel nestled in the village of Port Ellen overlooking the marina and situated one minute from Port Ellen ferry terminal.
The hotel was rebuilt 5 years ago to a high standard offering 13 bedrooms, dining room serving fresh local produce and whisky bar with a plentiful selection of Islay whiskies.
The hotel is located in the South of the Island at the foot of the newly constructed whisky path which takes you a scenic walk to Laphroaig, Lagavulin & Ardbeg distilleries.
The Islay Hotel is a great choice for the traveller looking for somewhere relaxed, friendly & convenient to distilleries, the ferry terminal and many local attractions.
Our History
On the 1st of October 2013 The Islay Hotel completed its second year of trading. Prior to opening, The Islay Hotel had sat derelict for approximately 20 years since its closure. Once the hub of Port Ellen with its own waterfall in the basement restaurant, the building was an eyesore for passers-by from the Port Ellen ferry terminal.
In 2004 local business people Roland Worthington-Eyre and Kathleen Cuninghame purchased the site and demolished the old Islay Hotel with a vision to build a new one in its place. The hotel opened its doors on the 1st of October 2011, refurbished to modern and environmentally friendly standards.
The time between purchasing the derelict site and the grand reopening was not without its challenges, least of all the complete demolition of the existing site into a new & modern hotel facility. But through endeavour and the support of the local people the hotel eventually did reopen, initially starting with just the public areas.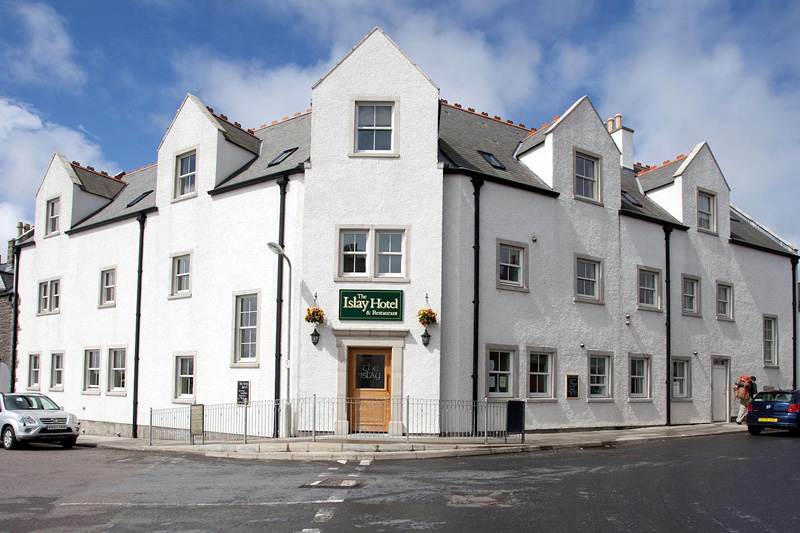 The gantry in the bar area in the hotel which houses our collection of over 100 malt whiskies is made from Burmese Teak which was once the floor of the London Stock Exchange, purchased by director Roland Worthington-Eyre in 1966, the Teak bears original markings from Steel Brothers of Scotland.
The original hotel was known for its famous pieces of Shaun O'Leary artwork which formed part of the internal walls. These works of art have been carefully restored since the demolition and take pride of place in the restaurant area as a nod to its past.
By Christmas of 2011 the hotel was operating with 7 bedrooms and by the summer of 2012 the Islay Hotel had its full complement of 13 bedrooms finally complete. There are future plans for a potential basement lounge and function rooms and even further bedrooms and leisure facilities.